Decriminalisation of sex work referred to the QLD Law Reform Commission (QLRC)
On 27 August, 2021 the Attorney-General Hon Shannon Fentiman referred the Decriminalisation of Sex Work in Queensland to the independent Law Reform Commission to undertake a review and draft legislation to decriminalise the sex work industry.
Read the media release from DecrimQLD, Respect Inc and Scarlet Alliance welcoming the announcement. And the media release from the Queensland Cabinet.
The Terms of Reference sets out the parameters of the review.
The Queensland Law Reform Commission is asked to recommend a framework for a decriminalised sex work industry with regard to twelve key areas. You can read the Terms of Reference here. The QLRC will also draft legislation by November, 2022.
The QLRC has indicated it will release a discussion paper by the end of the 2021 including a call for submissions.
We will be working to ensure that sex workers based in Queensland and who tour Queensland have our voices heard.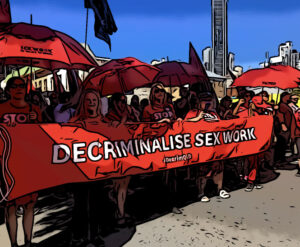 We will add updates here on the submission process once it is announced.
Sex workers in Queensland have been waiting for a long time for the decriminalisation of sex work and have been campaigning for decades to change the harmful laws in Queensland.