The QLRC Report has finally been released & the QLD Government has committed to decriminalising sex work!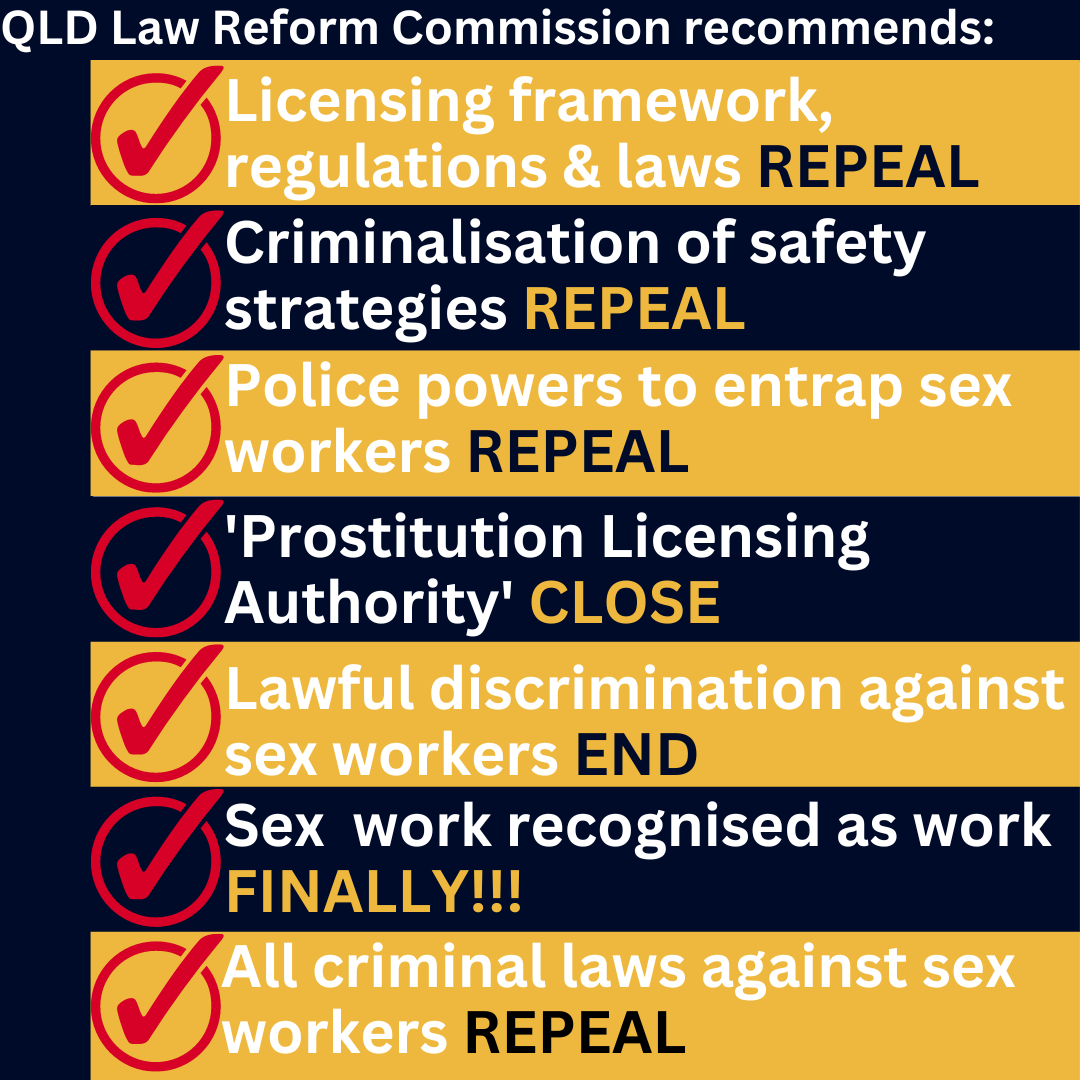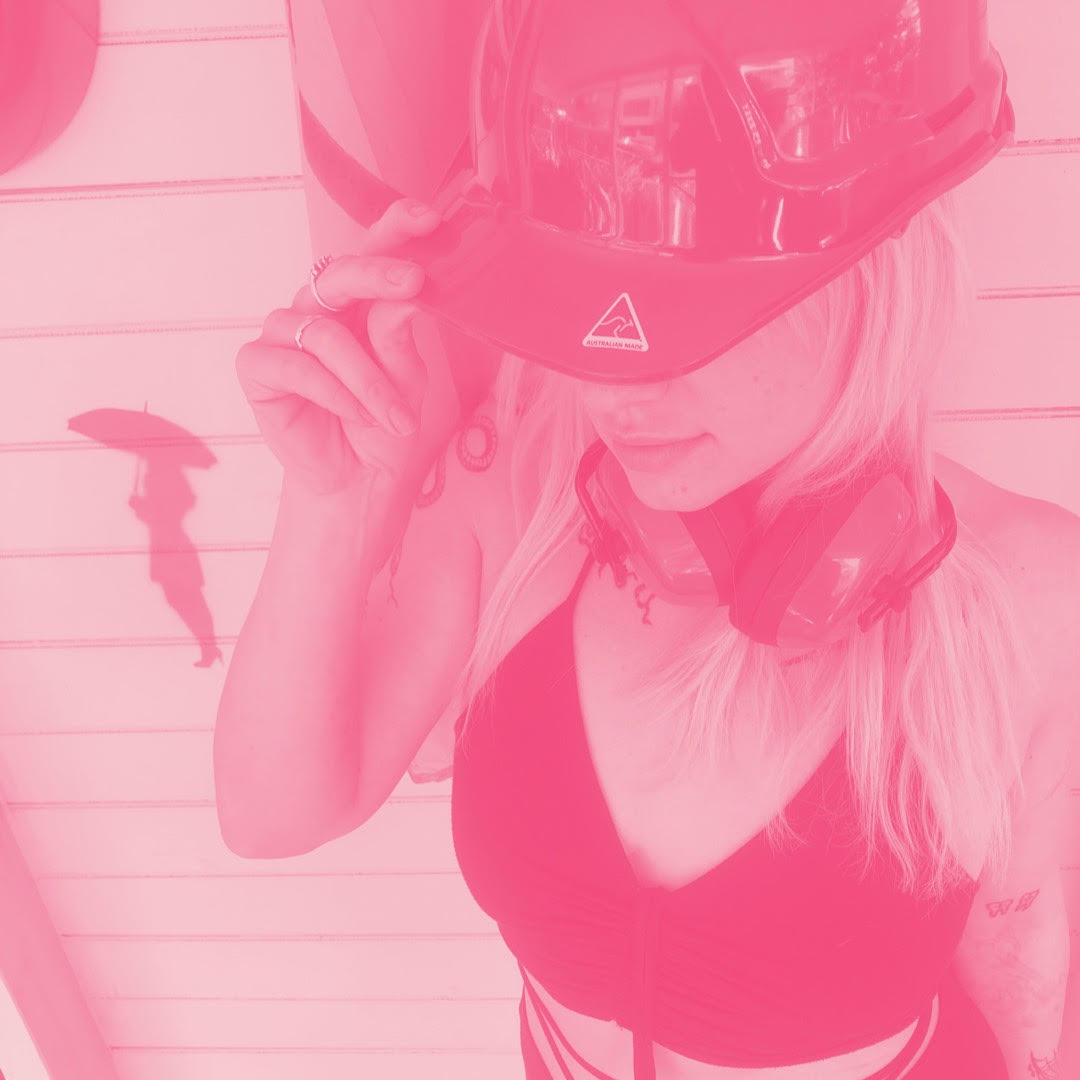 The QLRC Review into decriminalisation of sex work in Queensland was undertaken from 27 August 2021 – 31 March 2023
On 27 August 2021, the Attorney-General Hon Shannon Fentiman referred the Decriminalisation of Sex Work in Queensland to the independent Law Reform Commission (QLRC) to undertake a review and draft legislation to decriminalise the sex work industry. On 31 March 2023 the QLRC report was released.
Changes to the Terms of Reference
The Terms of Reference sets out the parameters of the review i.e., what was covered and what was not. The Queensland Law Reform Commission was asked to outline a framework for a decriminalised sex work industry in twelve key areas. In November 2022 the Terms of Reference were amended to remove the expectation that the QLRC will draft actual legislation. Instead, they were asked to prepare "drafting instructions". You can read the full Terms of Reference here.
Consultation Paper
On 11 April, 2022 the QLRC released a 255 page long Consultation Paper on decriminalisation of sex work including a call for submissions. 
What we did in 2022
Events, consultations, briefings, submissions, surveys, research, reports and zoom calls!
Past events May - Oct 2022
Every Wednesday in May 12-4pm sex workers were invited to join us in-person, online or by phone for submission assistance. Whether it is just a question about the process or help getting your experiences down in writing we are here to help.
Tuesday 10 May starts at 10am (the second day of the Respect roundtable) sex workers could join in-person or online as we discuss decriminalisation, what it is and what it isn't, how we make sure the benefits are available to all sex workers and information about the key topics in the discussion paper. Go to see the agenda.
Friday 13 May 11am-12.30pm we invited other organisations and allies to join us for an information session with Jules Kim from Scarlet Alliance and Queensland speakers as we share information about key issues to consider in your submission.
Wednesday 18 May 11am – 12pm Supporters were invited to a short briefing on what needs to go into your Decrim submission.
Wednesday 25 May at 11am-12pm we presented on the Community Legal Centres Qld webinar.
Wednesday 25 May at 6-8pm sex worker submission writing help session.
Tuesday 30 August all day we spoke at the national ASHM conference held on the Gold Coast, and attended presentations by allies and supporters.
Wednesday 27 September at 12-1:30pm Decolonise and decriminalise: Blak sex work voices webinar in September.
Sunday 24 September all day we had a table at Meanjin Pride, sold our merch, met loads of new friends and connected with long term supporters.
Sunday 15 October all day we hosted a table and participated at the Brisbane Feminist Festival.
Tuesday 24 October, we held our third symposium at Queensland Parliament House, hosted by Attorney-General Shannon Fentiman.
#DecrimQLD & Respect Inc wrote a joint "Submission" to the QLRC review
The #DecrimQLD and Respect Inc join submission was in response to the 250 page long QLRC Consultation Paper called 'A framework for a decriminalised sex work industry in Queensland'. The joint submission was respectfully informed by the lived experiences of sex workers in Queensland, reliable academic research, recent survey results, and community consultations. You can link to the whole submission as a PDF or look at it section by section. The proposed law reform has the potential to be the most significant policy change for sex workers, our partners, friends, families and children to ever happen in Queensland whilst simultaneously resulting in very little change for most other community members. Sex workers in Queensland and our workplaces would no longer be criminalised but instead have the same workplace, health and safety rights as other workers.
Check out the Respect Inc & DecrimQLD Submission, section by section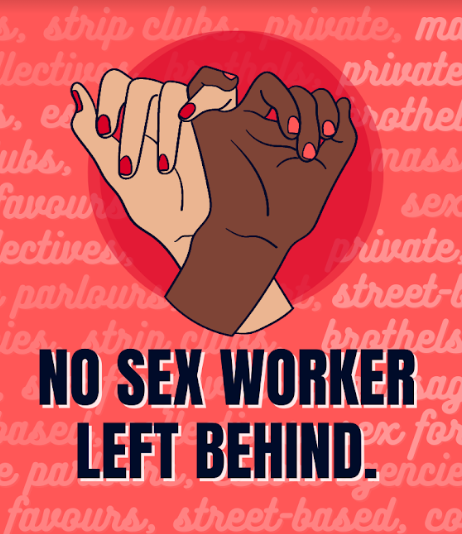 What is decriminalisation?
→ Decriminalisation is the repeal of laws specific to sex workers or the sex industry.
→ Decriminalisation is not 'no regulation'. When criminal laws are removed the same civil laws and regulations that apply to other businesses will apply to the sex industry, including Workplace Health & Safety (WHS).
→ Sex workers will have the same rights and responsibilities as other workers.