Trans women sex workers
This page is geared towards transfeminine people. Info for transmasculine folks can be found on our Male Sex Workers info page.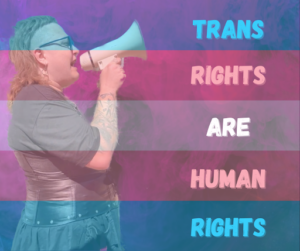 [Caption: Trans Women Peer Educator Valerie chants for trans rights at Brisbane Labour Day]
Many sex workers are transgender, and trans women form the second largest demographic (after cis women) among Australian sex workers. Trans sex workers are as diverse and individual as any other group, but clients and other cisgender (non-trans) people often create their own narratives about our bodies and our genders, and imagine that we're all the same.
Trans women have always been a part of the sex industry (just as we've always been a part of society as a whole), and sex work often provides alternative means of income when we face barriers and stigma around employment. 
It's important to remember that sex workers often use a persona at work, which for trans people can include presenting in a way that doesn't match our true gender.
To get in contact with a trans woman peer educator from Respect Inc, email trans@respectqld.org.au