If you are a sex worker, our drop-in hours are the best hours to contact one of our peer educators or to come in to purchase supplies. During these hours only peers will be on-site.
Monday to Friday 12:00pm – 4:00pm
We are available outside these times for outreach, workshops, private appointments or external meetings.
For more information about our services or to arrange an appointment at a time that is suitable for you, please email Carly at carly@respectqld.org.au or call her on 07 5564 0929 or 0401 969 223.
LOCATION AND PARKING INFORMATION
Our Gold Coast office is located at 4 Bay Street, Southport.
Parking
Unfortunately we do not have our own car park. There are a couple of 15 – 30 minute car parks on the street outside our office. If these are occupied or you want to visit for longer, there are a number of paid parking spaces in Bay Street. Australia Fair Shopping Centre also offer 3 hours free parking or 5 hours free parking (if you spend over $25 at the shopping centre and can present your receipt upon exiting).
Gold Coast Office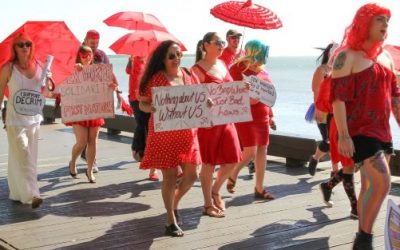 A day recognised internationally remembering those sex workers whose lives have been lost to violence.