Respect Inc is a non-profit, peer-based organisation focused on protecting and promoting the rights, health and wellbeing of Queensland sex workers. We are independent from police and the government, and do not operate to regulate the sex industry in any way. We are a sex worker rights-positive and rights-focused community organisation. Through our funding we provide a range of services and programs aimed at addressing our community's needs, as informed by them. We recognise that historically, sex workers have successfully educated each other about workplace health and safety and in doing so, have demonstrated that peer education is the most effective way for us to improve this. We continue in this tradition, providing a peer-only safe space at all our offices and most events.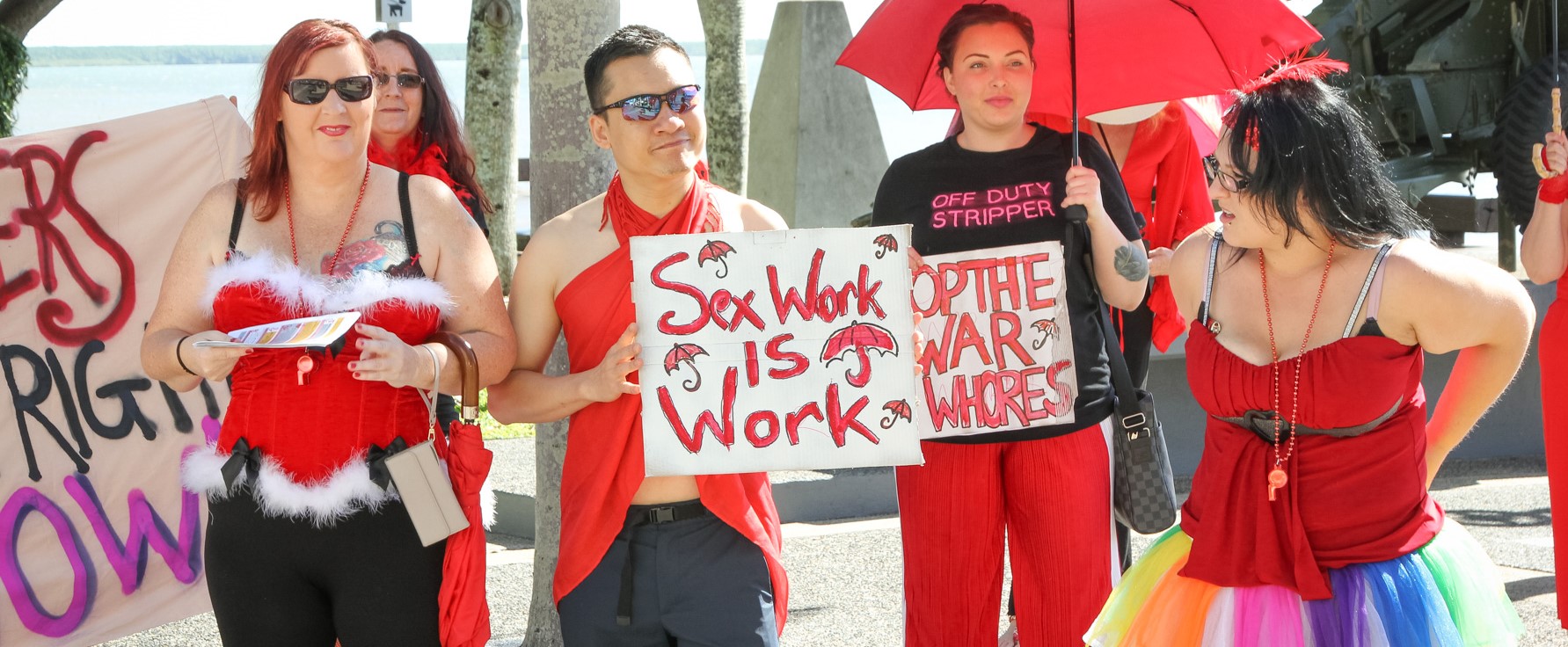 History of Respect Inc
Respect Inc developed in the two years after the closure of SQWISI (Self-Health for Queensland Workers in the Sex Industry) in 2007.
United Sex Workers North Queensland became incorporated and began working with Crimson Coalition to establish a state-wide organisation which was proposed to be called Sex Workers United[2]. In keeping with the recommendations of the SWAN Report, Scarlet Alliance, United Sex Workers North Queensland and Crimson Coalition actively participated within the SWAN Working Group facilitated by Queensland Health.
Queensland Health then made a commitment to supporting a community capacity development approach:
"to establish a community-based affirmative action sex worker organisation able to deliver a funded program of HIV, hepatitis C and sexual health promotion services."
Respect Inc was incorporated in October 2009 and set about establishing the offices, resources and infrastructure to deliver health promotion services to Queensland sex workers. Since that time, we have had recurrent service agreements with Queensland Health.
Crimson Coalition (previously SSPAN – Sexual Service Providers' Advocacy Network) was established in Brisbane in 2004 to provide sex workers' voices for law reform activities. SQWISI appeared to be moving away from a peer focus on their management committee and in recruitment of health educators and Crimson Coalition members were eager for sex workers to present their views to government themselves.
United Sex Workers North Queensland was established in 2007 as a direct result of the closure of the North Queensland SQWISI offices in March of that year. Our members were directed by the needs of our peers for workplace health and safety training and peer support.
Both groups were members of Scarlet Alliance, The Australian Sex Workers Organisation, the peak national sex workers' organisation. Together we contributed to the Sex Workers Assessment of Needs (SWAN) Review conducted by BB Professional Services, independent consultants who were contracted by Queensland Health to talk to sex workers and other stakeholders and identify our needs for health services. We also produced the Scarlet Alliance, Crimson Coalition and United Sex Workers North Queensland "Submission to the SWAN Review of Sex Worker Services in Queensland", May 2008.