International Sex Worker Day is 3rd March all over the world.
Respect Inc are celebrating with two days of workshops, a rally, discussions and more.
Free to attend, refreshments and lunch are provided.
The Rally and Trivia Night are public events in Southport for sex workers, friends, allies and family. Full details below.
3 มีนาคม 2020 นี้วันงานบริการทางเพศของทั่วโลก  ยินดีต้อนรับทุกคนที่สนใจร่วมชุมนุมกัน งานเริ่มระหว่างเวลาเที่ยง – 12น.ณ สถานที่สาธารณะเซ๊าท์พอร์ต Southport
4 มีนาคม 2020 รีสเปค มีงานการแสดงประชุมเชิงปฏิบัติการ เวิร์คช้อป – และการอภิปราย แสดงความคิดเห็นต่างๆ, สำหรับเฉพาะผู้มีอาชีพให้บริการทางเพศเท่านั้น ฟรีทุกท่าน
เราให้บริการอาหารกลางวันฟรีและตกเย็นในคืนนั้นเรามีงานปาร์ตี้สังสรรค์ และตั๋วจำหน่ายเข้างานด้วยราคาถูกสุดและย่อมเยาว์
Day One – 3 March 2020
Southport Health Precinct 16-30 High Street SOUTHPORT for all the sex worker only workshops and discussions.
Tuesday 3rd March 2020
10 am – 11:15 am
Welcome & Introductions
Gender pronouns & Language Backgrounds Panel
History of sex worker rights in Queensland Game How well do you know your history? Teams welcome.
Tuesday 3rd March 2020
11:15 am – 2:30 pm
11:15 – 11:30 Rally preparation at venue.
Getting ready with masks, sunglasses, wigs & hats to protect our privacy at the rally.
11:30 – 12noon Walk as a group to the Rally location. Red Umbrellas and banners held high!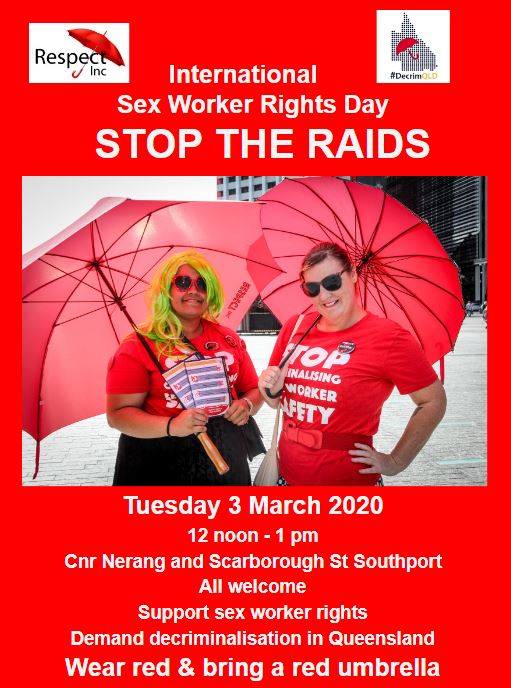 Rally 12 noon – 1 pm 
Corner of Nerang and Scarborough Streets, Southport. Wear red and bring a red umbrella! Welcome to Country by Jellurgal Aboriginal Cultural Centre.
Lunch Break 1 – 2 pm
Rally debrief Until 2:30pm back at the sex worker only venue. How did it go? What could we improve on for next time?
Tuesday 3rd March 2020
2:30 – 5 pm
Migrant sex workers, Racism, Police Attitudes, Arrest, Deportation Hear about how our immigration and justice system works, and fails, migrant sex workers in Queensland.
Older sex workers Research update and Discussion
Older sex workers face specific issues and bring so much knowledge and experience to our community. This presentation is about ongoing research project with opportunity for open discussion too.
Wednesday 4th March 2020
9 – 10:30 am
Introductions
Gender identity, language background check in
House rules & confidentiality check-in
Wednesday 4th March 2020
10:45 – 12 noon
Syphilis Update & Consultation
Do you know Syphilis from Chlamydia? A chancre from a cold-sore? This is a comprehensive update, followed by discussions about how we can better keep ourselves safe, tested and treated during this current Syphilis epidemic in Queensland.
Respect Inc Members are invited to join online.
Wednesday 4th March 2020
1 – 2 pm
Digital Advertising Platforms
Since FOSTA/SESTA in March 2018 we have all struggled to find new homes for advertising online. This is an open discussion for all sex workers to contribute to sharing information about how to keep business flowing without breaking the bank on useless platforms.
Respect Inc Members are invited to join online.
Wednesday 4th March 2020
2:30 – 3:45
What to do if you are arrested
Entrapment, fake bookings by police, and arrest are all common experiences for us in Queensland. This is a practical step-by-step workshop on what to do if you are arrested. Essential for all Queensland sex workers.
Respect Inc Members are invited to join online.
Wednesday 4th March 2020
4 – 5 pm
Introduction to sexual health visual checks in private bookings
Using our eyes, hands and sense of smell, in person, to check for STI risks before commencing a booking, is a skill none of us can afford to be without.
This workshop is practical and all skills sharing welcome.