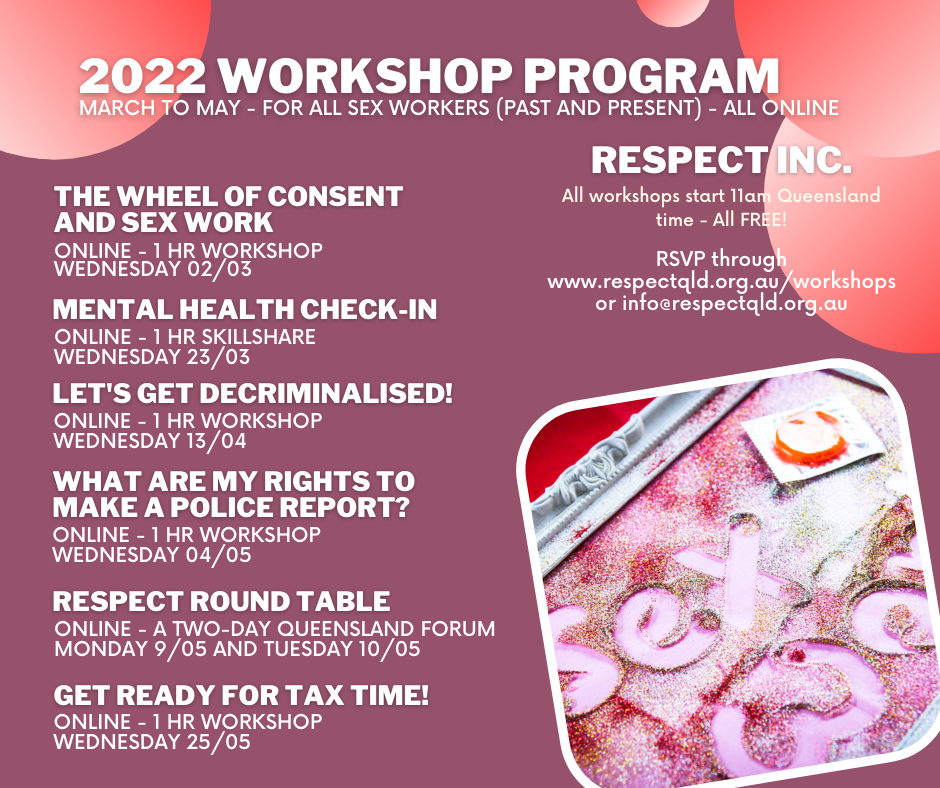 Please note if you are joining via google meet it will display the name you have used for your account. Respect recommends creating or using a google account that doesn't use your legal name.
Unless otherwise specified all workshops are run by peers and are 100% sex worker only spaces.
"What are My Rights if I Want to Make a Police Report?" This workshop includes a police officer to answer your questions, the workshop is only available via zoom to ensure full anonymity of all participants.
What are My Rights if I Want to Make a Police Report? 如果我想报警,我有哪些权利?– 4th May 2022

Hear it directly from a police officer. This is an anonymous session that will be held via Zoom.
* no cameras or names of participants will be viewable
**presenter is a police officer.
因为此座谈主讲者为一位昆士兰警官,所以这是以 Zoom 平台举行的在线匿名座谈(不会显示参与者的影像或姓名)。
Respect Round Table 2022 工作者协会年度圆桌会议 – 9th–10th May 2022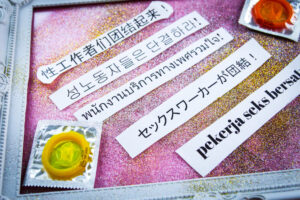 Two days of online workshops and information from Queensland sex workers.
昆士兰性工作者为期两天的在线研讨会和座谈。
Get Ready For Tax Time! 您准备好要报税了吗!– 25th May 2022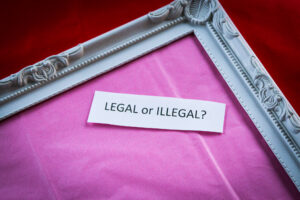 It's almost that time of year again! Empire Finance are hosting a special workshop run by people with past sex work experience. 又到了一年中申报工作收入的那个时候! Empire Finance 帝国金融服务的一位退休的性工作者主持此税务研讨座谈会。
The Wheel of Consent and Sex Work 性工作与性许可的转轮 – 2nd March 2022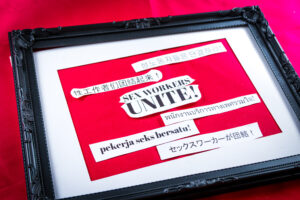 This workshop takes a look at 'want' and 'willing' and how this applies to us as sex workers. In addition, it looks at how to slow things down with this knowledge. 本次研讨会将探讨何谓「want 性欲求」和「willing 性意愿」,以及如何利用这些概念在提供性服务时与客户周旋~ 此外,利用这些概念延长服务的时间、获取最大收益。
Facilitated by Nirvana Pilkington.
Mental Health Check-In 自我心理保健 – 23rd March 2022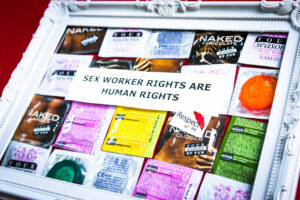 Everyone needs a mental health check-in occasionally. Join us for a workshop led by Lena Lundell as we explore the mental health techniques we use as sex workers. Online workshop.每个人偶尔都需要观照自我的心理健康状态。邀请您参与由心理辅导员(前性工作者)Lena Lundell 主持的研讨会,探索我们作为性工作者使用的心理保健技巧。线上(在线)座谈。
Let's Get Decriminalised 推动性产业除罪化 – 13th April 2022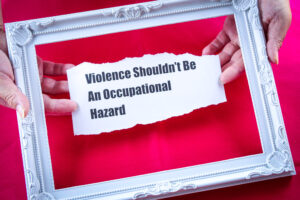 Come along for a submission writing workshop held by DecrimQLD and find out about the Queensland law reform commission review of sex work! 参加由 DecrimQLD 昆士兰州性产业除罪化推动委员会举办的法案改革个人意见书撰写研讨会,并了解昆士兰州法律改革委员会对于性工作产业的审析。