So what is this famous day that we celebrate each year?
Well, it marks the date that the modern sex worker movement was born, in 1975.
When prominent members of the sex worker community in Lyon, France, were jailed by the very same police who refused to investigate violent crimes against sex workers, the sex workers in Lyon decided they'd had enough.
The local sex workers organised a blockade inside Saint Nizier Church, in the main sex work area of the city. It was the beginning of a national French sex workers strike. Hundreds of sex workers took over 5 churches, and many of the 20,000 odd sex workers in France at the time also went on strike in solidarity. They were demanding the end of police harassment, the re-opening of the hotels where they worked, and scrapping of anti-pimping laws; they wanted to be able to live with the fathers of their children without them being harassed as pimps. They also wanted the brutal murders of sex workers investigated.
 On June 10th, the police, sent in by the Government, went in and brutally removed all the women and children from the church, but the labour movement remains and every year it is internationally celebrated by sex workers.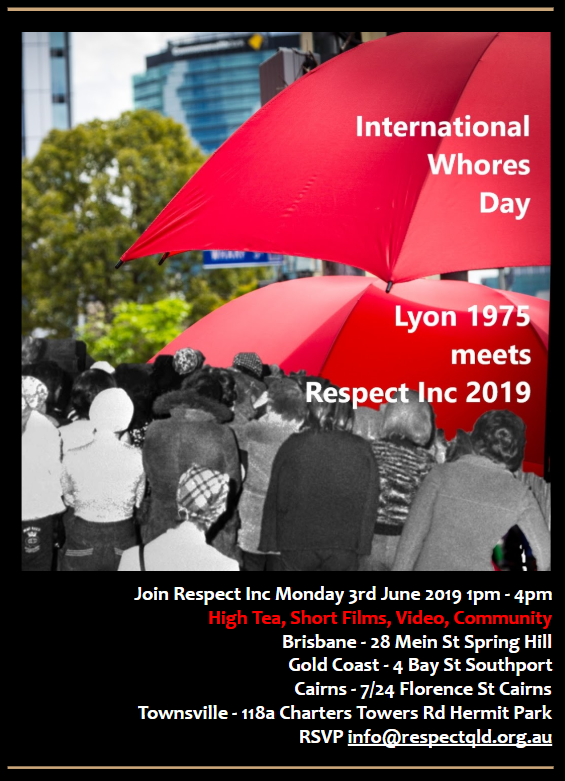 This year, Respect Inc will be holding an International Whores Day High Tea in Brisbane, Cairns, Townsville and the Gold Coast, from 1pm-4pm on Monday 3rd of June. It's a sex worker only event and you are invited.