Last month two local inner-city Brisbane sex workers were involved in a historic prosecution. Three other sex workers were defrauded by the same man but were unable to come forward due to privacy and confidentiality concerns. The accused plead guilty to two counts of Fraud and "Dishonestly gaining benefit or advantage." He was ordered to pay each worker $350, plus was fined &750 for each offence.
The Criminal Code 1988 (QLD) section 22A deems many of the activities surrounding private sex work in Queensland illegal, such as texting another sex worker when a client arrives or leaves, sharing overheads, or having a driver that another sex worker recommends.
"Despite these bad laws, two sex workers in Queensland have had success in the courts, winning a fraud complaint after non-payment," Elena Jeffreys from Respect Inc said today. "This case is unusual because in Queensland police have a role in prosecuting sex workers."
Fines for advertising related offences were up by 450% in 2016/2017, and the majority of sex workers targeted were women above the age of 30. Uniformed police at a local station level trawl through sex worker ads to find wording that might fall outside the stringent Guidelines enshrined in the Prostitution Act 1999. "This environment of policing is not conducive to sex workers coming forward about crimes," Elena Jeffreys added.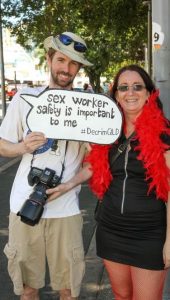 One of the complainant sex workers, Gabrielle, had this to say about coming forward:
"I absolutely believe that our services are for an agreed fee & for an agreed sexual service. This person didn't pay, and I decided to come forward to law enforcement. I find my job not different to any other sole traders, or self employed people in all walks of life. As it turned out, due to our close knit community I then found out a sex worker colleague, Stacey, had this happened to them by the same cuprit, almost exactly."
The second worker, Stacey decided she too would come forward and report the crime:
"It was a hassle reporting it but I felt the offender didn't deserve to get away with it because he had done this before. Gabrielle and I know three other workers who were defrauded by this man, but were not in a position to come forward as they did not want to be publicly identified and their families do not know about their job. I was prepared to risk having my name revealed in court, but the police and magistrate dealt with it very respectfully, and I didn't need to disclose my name to get the matter resolved."
"Being defrauded is never the workers' fault," Elena Jeffreys from Respect Inc said today. "Deliberate and malicious actions by predators to gain sex work bookings by deception is not an occupational hazard – its a crime."
Gabrielle also has this concluding statement for fellow sex workers:
"Our work is so isolating due to our current laws, sadly. I'd always encourage sex workers to keep in contact with each other in each state. It could be as easy as a text. It could save your life &  support you in a difficult situation. You should always have someone that you can talk to. Decriminalisation of sex work in Queensland would make a difference and is recommended by the WHO & Amnesty International."
In Queensland it is illegal to for sex workers to communicate booking location and details to another worker. "These laws put everyone in danger, and sex workers daily have to choose between working legally, or working safely," Elena Jeffreys said today.
"The evidence shows full decriminalisation of sex work would improve sex workers' chances of being able to report crime," Dr Jeffreys concluded today.