Sex workers are often victims of vilification and hate crimes, which often go unreported due to legislation.
The Anti Discrimination Act 1991 currently does not provide any anti-vilification protection for sex workers in Queensland.
Respect Inc. and Scarlet Alliance recommend:
'Sex work' and 'sex worker' should be included as a recognised

'ground' for unlawful
and criminal vilification.
Existing anti-vilification protection

s for race, gender and sexuality should be

strengthened.

The

Queensland Human Rights Commission

should maintain a civil r

edres

s avenue for
sex workers pursuing a vilification claim.
The full decriminalisation of sex work in Queensland is an essential aspect of
removing barriers to sex workers reporting vilification.
This submission discusses the following: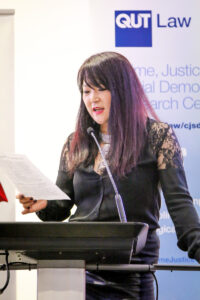 – The prevalence of hate crime and vilification against sex workers in Queensland.
– Online vilification.
– The criminalisation of sex workers in Queensland through the licensing framework.
– Sex work not being included as a 'ground' for vilification under s124A and s131A.
– Access to vilification protection via existing protected attributes remains severely limited for sex workers due to criminalisation.
– Without decriminalisation, accessing s131A is limited for sex workers.
– The current conciliation framework is not accessible for sex workers.
Full submission here