Sex workers disproportionately experience discrimination in many areas of life.
Discrimination is when a person is treated less favourably because of an 'attribute', for
example because they are a sex worker.
The majority of discrimination cases in Queensland go unreported because the legislation and complaints process does not meet our needs.
This is the first full-scale review of the Queensland Anti-discrimination laws since the 1990's, and they won't be reviewed again anytime soon. It is our chance to get sex worker voices heard!
Respect Inc will be submitting, lobbying, advocating and campaigning for sex worker issues to be represented in the review.
Add your voice by writing a personal submission, deadline is 1 March 2022. Individual submissions can opt to not include your name, and choose if you want your submission to be public or private.
Allies and other organisations should consider adding these important points to their own submissions.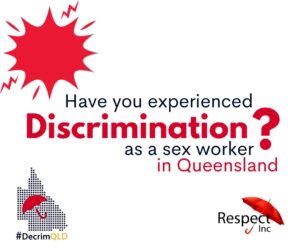 THANK YOU to all the sex workers who completed the Anti-discrimination review survey in 2021. If you have not yet completed the survey you can still do so until the end of February. More information on the anonymous survey and relevant links here.
As a result of so many sex workers outlining the way discrimination impacts on us, the Queensland Human Rights Commission has included three questions specific to sex work in its Discussion Paper.
The Discussion Paper asks:
if the attribute (or what is protected) should change from 'lawful sexual activity',
if discrimination against sex workers in accommodation should continue or be repealed,
if the working with children discrimination exemption based on being a sex worker should be repealed, and
other questions relating to the complaints process and sexual harassment.
Having these questions considered in the Discussion Paper is a huge win for sex workers. Now it is up to us to make sure we submit in answer to the Discussion Paper and see these issues resolved in the law.