"On International Day To End Violence Against Sex Workers we mourn the loss of our community members while celebrating their lives as friends, now lost."
17 December is recognised internationally remembering those sex workers whose lives have been lost to violence.
In Queensland we have lost friends, co-workers and family members to violence. These deaths are often reported as domestic violence or intimate partner violence. We accept that if it is known the person was a sex worker it would result in stigma & discrimination for their family. As sex workers even in death we, and our families, are not free from stigma.
In Queensland we are forced to work alone, not even in the same building as another sex worker, by laws that have no place in a society that recognises safety at work.
As sex workers our safety networks are each other. Yet if we text each other when a clients arrives & leaves – just to say we are ok – we can be charged.
Why are there laws in Queensland that isolate us and criminalise our safety?
Our safety strategies are criminalised and police target us for arrest.
We are turned away if we attempt to report crime.
In the past year more than a dozen sex workers have attempted to report crime only to be told there was no crime because we are sex workers, told it would be too hard to prove or treated so poorly by police that we do not continue with the report.
Respect Inc is hosting sex worker events on Monday 17 December. Please note these are sex worker only events and sex worker only safer spaces. All events are free and you don't have to RSVP.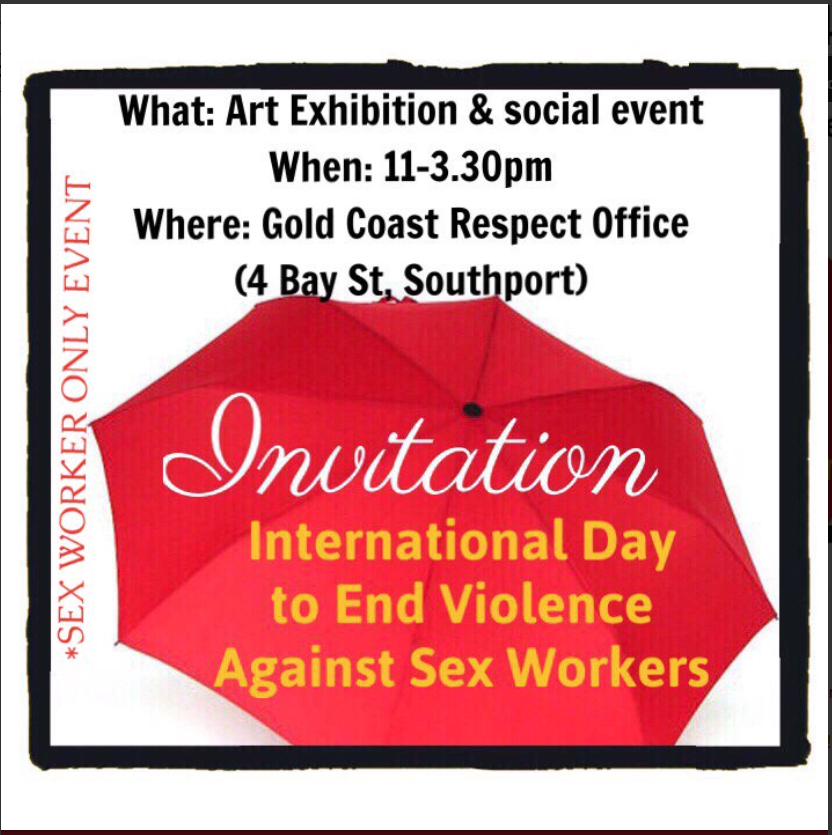 GOLD COAST (Yugambeh country)
We have been building an exhibition and display wall at our Gold Coast office, 4 Bay Street, Southport, for sex workers to come and enjoy. If you have art you would like to display please bring it along! Also there will be craft and materials available for art making on the day. We are starting from 11am, providing food and drinks, and winding up at 3.30. The exhibition will be up much longer! 
For more information you can call Carly on the Gold Coast on 0401969223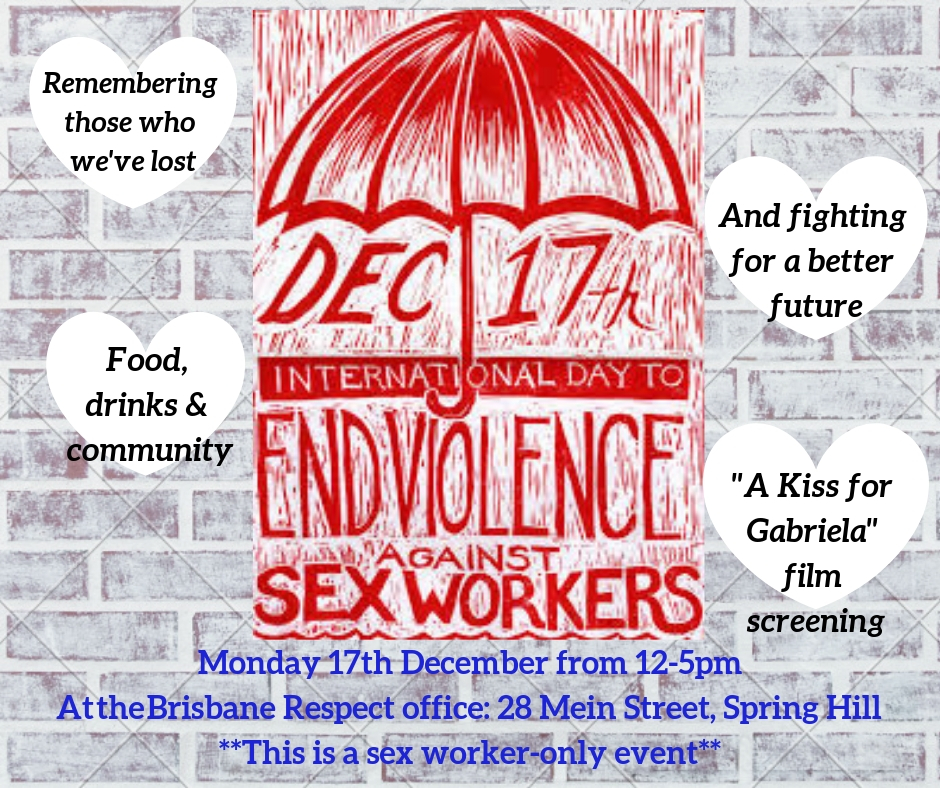 BRISBANE (Meanjin)
We will be holding a community lunch & get together at the Brisbane office at 28 Mein Street, Spring Hill, to remember those who we've lost due to violence over the years. Food & drinks will be provided, we will be discussing the fight for safer working conditions, & showing "A Kiss for Gabriela", about the Brazilian sex worker activist Gabriela Leite. For more info, call the office on 3835 1111.
TOWNSVILLE (Walgarukaba and Bindal country)
What says community more than a picnic?
Townsville weather is lovely at night, you are invited to the park in Jezzine Park, at the tables along Cook St, Northward. Follow the smells of fish and chips to find us! We are having an evening of community reflection and togetherness, children and dogs are also welcome. BYO drinks, we are providing the dinner.
It's been a year of hardships and loss for many of us, this event brings our community together for healing.
For further information and to organise a lift call Michele on 0416987011
For the sex workers this year in Queensland who died, without the ability to call for help and without someone knowing who they were with – victims of perpetrators who know we are unlikely to report crime – we stand up and fight for the repeal of these senseless laws and say
NO
NO to violence against sex workers
NO to laws that isolate us
NO to laws that make us work alone
NO to laws that criminalise our safety
NO to police that won't take our reports
NO to politicians that turn a blind eye to 18 years of harmful laws
WE DEMAND THE REPEAL OF LAWS THAT MAKE US UNSAFE
Decriminalise sex work for sex worker safety