QUICK LINKS TO THE LATEST CHANGES FOR:

From 17 Dec the COVID rules for sex workers have changed in Queensland. 
The changes are:
All brothel and private workers must be able to show proof of compliance with vaccination rules.
All clients must be screened for proof of compliance with vaccination rules.
You can update the QLD CheckIn App with your preferred name and contact details.
NOTE: Private sex workers still do not have to use the QLD QR Code Check-in. Continue to use your current record keeping system with the added collection of how client compliance was checked.
The new Checklist is:
You must be able to show your signed COVID Checklist and record of client bookings if you have a compliance visit. All workers are welcome to attend a Respect Inc office to print, complete and sign the new Checklist.
The COVID Checklist outlines the  requirements for:
Checking client compliance with new vaccination rules
Having a poster up in your workplace declaring the new vaccination rules

Cleaning and disinfection of surfaces

Health and hygiene

What to do if you are unwell

Identification of COVID-19 hazards, a risk assessment of those hazards, and control measures.
Exemptions from mandatory use of the QLD QR Code Check-In App
Due to safety concerns, sex workers in Queensland can continue to collect contact tracing data without requiring clients to  Check-In.
"Sex work industry operators have been given the scope to use alternative methods of collecting contact information if using the Check In Qld app would result in safety or liability issues."
Sex workers in QLD are currently collecting name, date, start and end time of the booking, mobile number and email.
Qld police have been advised of this but in case you are asked about this, the QLD Health Directive (21) requirement states:
'where the use of the Check In Qld app would result in safety or liability issues, the business, activity or undertaking must: collect contact information; and comply with the requirements for collection and storage; and if requested, provide the information collected to a public health officer within a stated time.'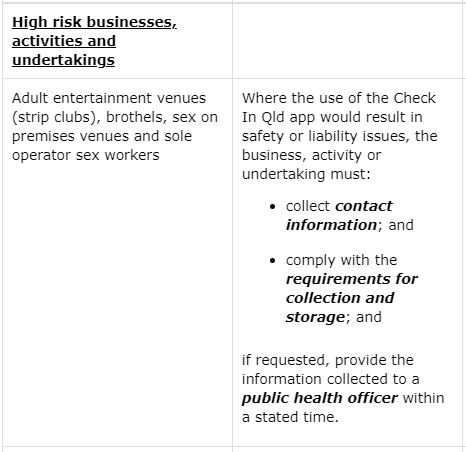 Couples welcome, doubles not:
All sex workers in Queensland are able to accept couples bookings.
Organising a private doubles booking is still illegal and not related to COVID.
If the client does all the organising the doubles booking is allowed.
Bring on decrim!!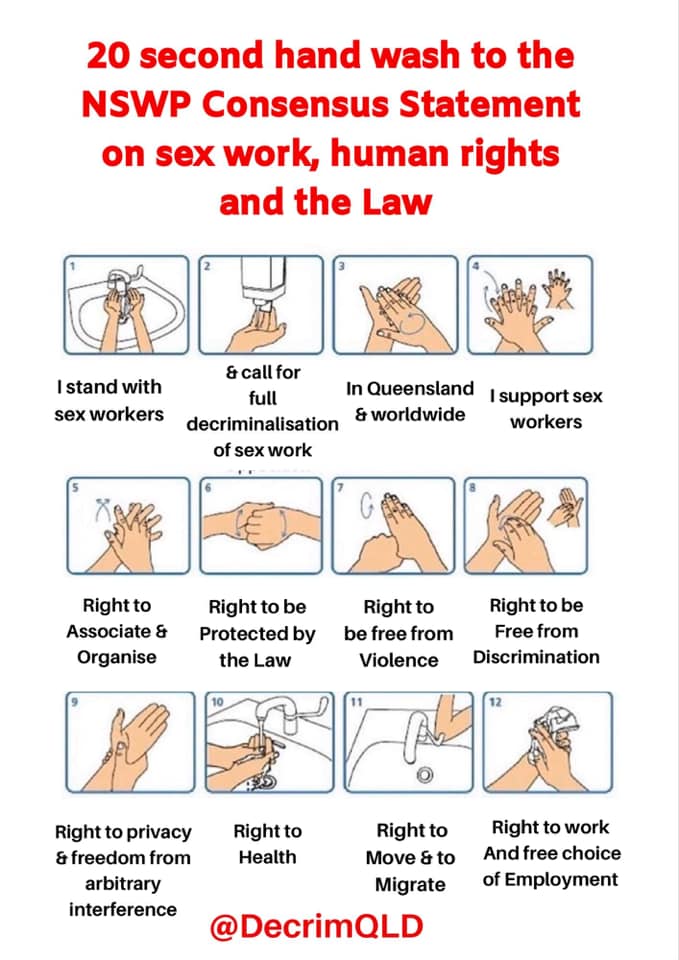 Sex workers and clients basic COVID prevention strategies:
Wash your hands

Use protective equipment

Do not work or visit a sex industry business if you feel unwell.
If you think you have COVID-19 symptoms call 13HEALTH or your local doctor.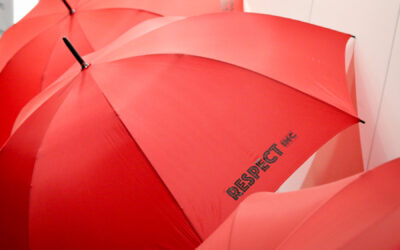 昆士兰州的新疫苗接种政策将于 2021 年 12 月 17 日生效。绿色勾号作为私鐘工作者和客户要求的合规证明。
LINK TO THE MOST UP TO DATE COVID RULES FOR: